When choosing a tattoo machine, there are several factors to consider. Here are a few key things to look for:
Type of machine: There are two main types of tattoo machines: rotary and coil. Rotary machines use a motor to drive a needle up and down, while coil machines use electromagnetic coils to move the needle. Both types have their own set of pros and cons, so it's important to research and try out different machines to see which one you prefer.
Needle movement: Look for a machine that offers smooth and consistent needle movement. This is important for achieving clean, precise lines and shading.
Power source: Most tattoo machines are powered by a direct current (DC) motor, but some newer models use a battery or a hybrid power source. Consider whether you want to be tethered to a power outlet or have the freedom to move around while tattooing.
Weight and size: Tattooing can be a physically demanding job, so it's important to choose a machine that is comfortable to hold and easy to maneuver. Look for a machine that is lightweight and well-balanced.
Price: Tattoo machines can range in price from a few hundred dollars to several thousand dollars. Be sure to set a budget and find a machine that meets your needs within that budget.
Brand and quality: try to get the one from a known brand which will give the quality that you looking for and reliability.
Frame and construction: Look for a machine that is made with a durable frame and construction. The frame and other components should be made of quality materials and be built to withstand heavy use.
Adjustability: The ability to adjust the needle depth, stroke length, and needle groupings are important for achieving the desired effect. Look for a machine that allows for easy adjustments to achieve different results.
Noise level: Look for a machine that operates quietly, as this will make the tattooing process more comfortable for both the artist and the client.
Maintenance: Look for a machine that is easy to clean and maintain. Consider the availability of replacement parts and check how easy it is to find help if there is any problem.
After-sales service and support: Look for a machine that comes with a warranty and good after-sales service. Choose a supplier that will offer you technical support and service throughout the life of the machine.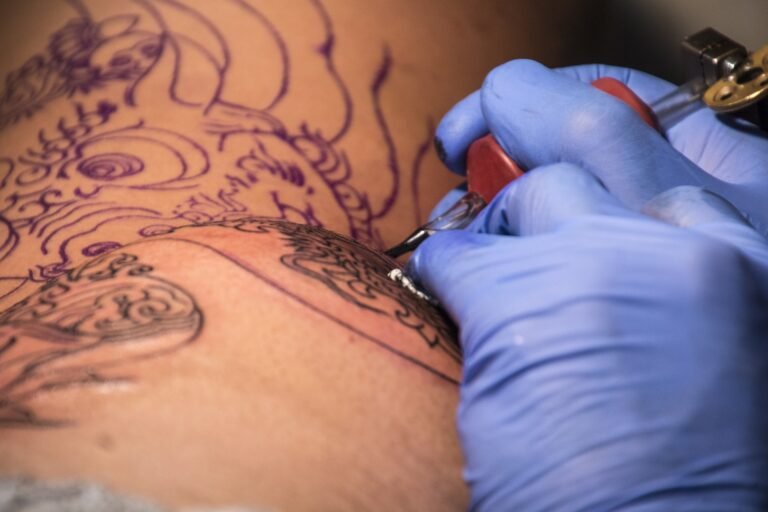 It's also important to note that the best tattoo machine for one artist may not be the best for another. Your specific needs and preferences, as well as the style of tattooing you do, will play a big role in determining which machine is right for you. So try different machines and experiment with different setups to find what works best for you and your clients.
Below are some of the best wired and wireless Tattoo Machines in the US.
Tattoo Pen Kit Wormhole Cartridge Tattoo Kit for Beginners Rotary Tattoo Machine Pen Professional Complete Tattoo Kit(TK108) (Red).
【Complete Tattoo Pen Kit】 Wormhole Complete Tattoo Pen Kit continuous operation, low noise, long-lasting stability, ergonomic. Compatible with all tattoo cartridge needles. The tattoo pen kit includes 1pc rotary tattoo pen with a RCA cord, 1 power supply with cable, 40 cartridges needles, 1 foot pedal, 1 bandage.
【Tattoo Pen Introduction】 The tattoo pen kit is finely carved CNC by aluminum alloy, the small gap between accessories and accessories, wear resistance, long time use without hot, long life. Speed, 10V-1W r/min, powerful, can be used for shading and lining. Connected by RCA line, starting voltage: 5V, working voltage: 8-10V. Switching frequency: 55-165 Hz, stroke: 3.5 mm, 0-4mm adjustable needle depth.
【Tattoo Pen Advantages】 Ergonomic, pen-style machine, emulating the grip and feel of an actual pen, this tattoo pen allows for more comfortable and precise tattooing procedure. The body of the pen is made of metal grinding technology, which makes it easier to hold and not easy to slip.
【A Perfect Gift】 This is a beautifully wrapped tattoo kit that you can use as a gift is a great choice. He not only has excellent working performance, but also has beautiful packing.
【100% Satisfaction Guaranteed】 If there is a problem with the tattoo pen kit you received, please feel free to contact us for a replacement.
Mast Archer Wireless Tattoo Machine Rotary Pen Style Supply Coreless Motor 2,000mAh Battery Power (3.5mm Stroke Black).
Information: Mast Archer wireless rotary tattoo pen machine has visible LCD voltage screen, easily adjustable voltage. Frame made of standard aluminium alloy and CNC carved. Weight: 186g, length: 132mm, diameter: 32mm. Assembly by hand, one piece body and seamless, effortless to cover and protect.
Custom Motor: The Archer wireless pen used with custom Mast coreless motor, 12V-10500rpm. This special motor does not require maintenance, smooth speed change, almost no vibration. Most reliable motor for Archer machine.
Mast Archer Advantage: One piece body seamless, fast charge with Type-c jack, 2,000mAh built-in battery working 8 hours, overcharge protection, short circuit protection, temperature control, and more. Powerful custom motor and no maintenance. Suitable weight and comfortable grip.
Widely Applications: Archer pen compatible with all sizes cartridges needles, advanced gear system that smooth, soft, and quiet operation, Ideal healing results. Gently and smoothly transfers ink to skin; suitable for all skin types.
What You Get: Custom motor Mast Archer wirless rotary tattoo pen machine, USB cable fast charging, welcome guide, one year warranty, and friendly customer service.
Dragonhawk Pro Complete Tattoo Pen Kit – Lightweight Tattoo Pen Machine 20Pcs Cartridges Needles Power Supplies for Tattoo Beginners 1013-7-2.
Dragonhawk Tattoo Pen Kit: It has main supplies to start your tattoo work, the tattoo pen has 3.5mm stroke length that better for starter get easy tattoo lining and shading, permanent makeup work.
Professional Tattoo Kit: All Dragonhawk tattoo supplies tested by pro artists. We provide all pro tattoo supplies for beginner. cartridges needles are Ethylene oxide (EO) gas sterilized and individually packaged. Atom tattoo pen used with our pro team to tattooing.
All Tattoo Supplies Quality Warranty: the all parts in this tattoo kit have been tested before sent out. There are three procedures for quality inspection in Dragonhawk factory. If you have any products problem, Dragonhawk world wide customer service can help you soon.
Dragonhawk Tattoo Pen and Cartridges Needles: tattoo pen machine has 3.5mm stroke length, continuous operation, Low noise, Long-lasting stability, Light weight, unibody. This Dragonhawk tattoo cartridges needles diameter: #12. Polished, long taper; reliable for all-purpose work. One piece needle and plunger overmold allows for maximum stability and control.
Package include: 1pc Pen Rotary Tattoo Machine with DC Clip Cord, 1pc Power Supply with cable, 20pcs assorted sizes Cartridge Needles 1pc Foot Pedal
Ambition Soldier Rotary Battery Pen Tattoo Cartridge Machine with 1950mAh Wireless Power Japan Coreless Motor Digital LED Display Tattoo Equipment Supply for Professionals and Beginners Tattoo Artists.
Material: Ambition rotary battery tattoo pen machine made of aluminium alloy frame and CNC carved. Length:148mm, Weight:210g. Detachable as a whole, easy to disassemble, maintain and replace spare parts.
About motor: Ambition rotary battery tattoo pen machine built-in Japan Corless Motor, 10V – 9000RPM. More powerful, low skin loss, fast coloring, no hot for long time working.
About battery: Battery Capacity is 1950mAh, built-in 3x 650mAh lithium battery. Can support long-term tattoo work, output stable. 8V output voltage can work for 5-6 hours, only need 1.5-2 hours to fully charge. More importantly, the battery can be replaced at any time.
Widely applications: The pen machine is compatible with all cartridge needles types, direct derive system make tattoo machine get stronger and better for liner and shader.
Package included: Ambition rotary battery tattoo pen machine includes 1pc Battery Tattoo Pen, 1pc extra free gift 4.0mm eccentric wheel, 1pc RCA adapter, 1pc USB fast charging data cable, 1pc Box.
FK Irons – Spektra Flux Rotary Tattoo Machine with 2 PowerBolts – Shadow Camo – Tattoo Pen with Wireless USB Recharging.
Wireless Tattoo Makeup Application Machine – Enjoy flawless cosmetic tattooing procedures with the Microbeau Flux machine wireless. Designed by makeup tattoo technicians and optimized for artists.
Lightweight Design – In an elegant, lightweight design, this makeup application tattoo machine has modern, brushless motor. Balanced and easily manageable with most of the weight in the center. 3mm stroke.
Up to 12 Hours of Battery – The interchangeable battery of this tattoo makeup machine lasts up to 12 hours and charges in less than 2 hours with a standard USB-C cord.
Bluetooth Enabled – Can be paired with Darklab mobile app to unlock special features. The ideal lip tattoo machine, eyeliner tattoo machine, and microblading machine.
Detachable Battery – The battery of this pen machine is detachable; can be switched with auxiliary battery (purchased separately). Comes with two PowerBolt battery packs.
Solong Tattoo Pen Kit Rotary Tattoo Gun Machine with Wireless Tattoo Power Supply 50Pcs Cartridge Tattoo Needles EM128KITPRD50-1-US.
Solong rotary tattoo pen is CNC-Machined by aircraft Aluminium alloy and then anodized finish. The motor is 10w made in Taiwan, low noise, strong and stable to work, no hot for long time working

Tattoo Pen is designed to give you the closest feel to an actual pen that you can get with a tattoo machine. You can use this pen to do tattooing, permanent eyebrows makeup, lip line, eye line, All in one pen

Tattoo kit including: a tattoo pen;50pcs cartridge tattoo needles; a rechargeable tattoo battery,1500mAH;DC 5.5 connection

Solong Tattoo Pen can be compatible all other brands tattoo power supplies, you will get an plug adapter to work with all those power supplies. Operating Voltage:7-11V, The max operating voltage is 11V. Don't run it higher than that or you'll overheat the motor and cause mechanical wear.

CE certification, one year warranty.  Solong is a tattoo equipment manufacture over 10 years. With the experience, we know what tattoo artists and amateurs' need. If you have any question, please don't hesitate to let us know.
Padieoe Wireless Tattoo Machine Kit Tattoo Kit Rotary Tattoo Pen Kit Wireless Tattoo Kit Cordless Tattoo Machine Tattoo Supplies for Tattoo Artist with 20Pcs Tattoo Cartridge Needle WTK097.
WIRELESS POWER SUPPLY: PADIEOE tattoo kit comes with a wireless tattoo power supply, which replaces the traditional wired tattoo power and foot pedal, and allows you to focus on tattoo creation. With a one-button operation, you can turn the device ON or OFF and adjust the voltage with just one tap. 6V-11V adjustable voltage, 1050mAh battery capacity, and 20%-100% power indicator. Charge for 4 hours, and lasts 6 hours depending on your working voltage.
POWERFUL MOTOR: The wireless tattoo machine is equipped with a high-quality motor, which is a high speed, low noise, and stable operation. At the same time, the motor has low energy consumption and high power and does not heat up for a long time working. Needle protrusion: 3.5-4.5mm. Operating voltage: 7-10V. Speed: 10V 10000Rpm, work great for a liner or a shader. The powerful wireless tattoo machine can help you to finish a healthy and beautiful tattoo.
ADVANCED DIRECT DRIVE SYSTEM: This wireless tattoo machine advanced direct drive system which is smooth, precise, and quiet operation, and makes the tattoo gun more powerful. The direct-drive system allows the tattoo pen to transfer ink to the sheet gently and smoothly. Stable voltage and low noise give you a satisfying experience and you can enjoy tattooing. PADIEOE Tattoo kit is the first choice for tattoo beginners, lovers, and artists.
ADVANTAGES OF TATTOO PEN: The weights of the tattoo pen and wireless power supply in the tattoo kit are about 4.5oz and 2.38oz respectively, which are very light. The short design makes this tattoo pen well-balanced, eliminating distractions like wires and wrist pain, so the wireless tattoo machine is suitable for long working hours. An ergonomic pen-style wireless tattoo machine emulates the grip and feels of an actual pen, allowing for a more comfortable and precise tattooing procedure.
COMPLETE TATTOO KIT: The tattoo pen kit includes a tattoo pen, tattoo power supply, tattoo cartridge needles, tattoo ink, ink cups, tattoo practice sheet, transfer stencil paper, etc. We have perfect after-sales, you can contact us at any time, no matter how to use the wireless tattoo machine kit or some problem with the tattoo gun kit, we will help you solve the problem as soon as possible.
TATELF Tattoo kit Professional Complete Tattoo Machine Gun Set Rotary Tattoo Machine Pen Power Supply Foot Pedal 40pcs Cartridge needles 21 Colors ink for Beginners Tattoo Artists(Red).
【Complete Tattoo Pen Kit】 TATELF Complete Tattoo Pen Kit almost come everything tattoo needed.The tattoo pen kit includes 1pc rotary tattoo pen with a RCA cord, 1 power supply with cable, 40 cartridges needles,40pcs ink cap cups, 1 foot pedal, 2 bandages,21 inks,2 practice skin etc
【Multifunction for Tattoo and Makeup】TATELF machine can use for body art tattooing,available for shading and lining,but also can use for permanent makeup,such as eyebrows,Lip,Liner,eyeliner
【Lower Noise,Less Vibration 】Cartridge Rotary Tattoo Pen Machine features a powerful motor and an advanced gear system that guarantees reliable, quiet operation, Lower noise,Less Vibration than Coil Tattoo machine gun.
【Good Compatibility】This Rotary pen machine made of aviation aluminum, light weight,unibody,Compatible with all tattoo cartridge needles.
【100% Satisfaction Guaranteed】 If there is a problem with the tattoo pen kit you received, please feel free to contact us for a replacement.